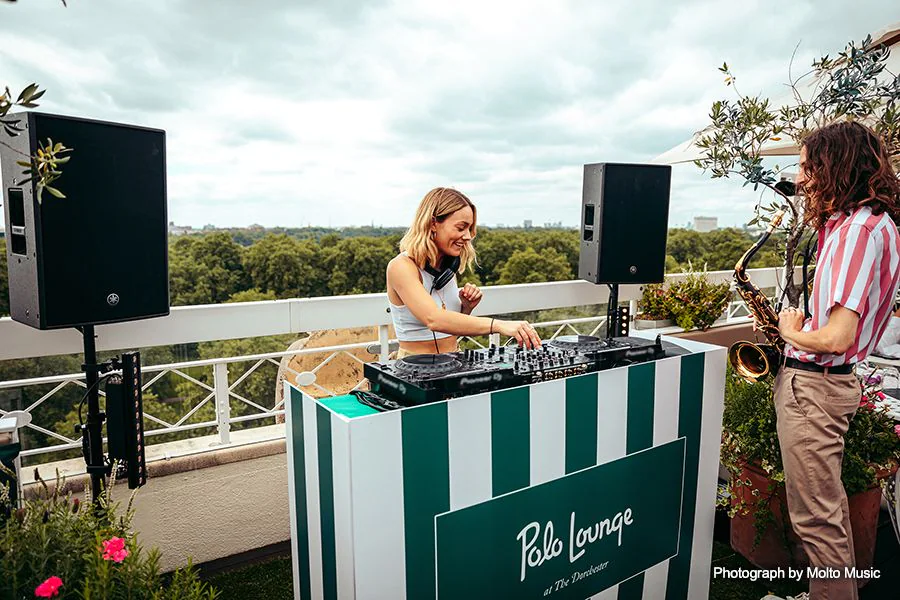 Yamaha and Molto Music Reach New Heights At The Dorchester
Bringing new, fresh live music to places where people don't expect it is the mission of London-based Molto Music. With a flagship project on the roof of The Dorchester, one of the city's most prestigious hotels, the company is working closely with Yamaha to expand its 'pop up' live venues throughout the city.
"London is full of live music locations that nobody really considers. People automatically think of the well-known venues, but the city is full of mini live performance spaces. We are bringing interesting, original music to those places where people wouldn't necessarily expect it," says Nicky Caulfield, group director at Molto Music.
Nicky is discussing Molto Music's mission to bring new music with interesting staging to restaurants and hotels, so long the preserve of cocktail pianists and crooners. Working with Yamaha, one of the highest profile of these inventive spaces is the rooftop terrace at the five star The Dorchester, long known as a preferred choice of the rich and famous.
"What we have tried to do is to make live music fit the aesthetics and atmosphere of its surroundings. To be a feature, but also seamlessly complement and blend into the space, because people still want to have conversations," says Nicky.
The project began earlier in 2021, as government restrictions on social mixing started easing, Richard Newell – food and beverage director at The Dorchester – contacted Nicky with an unusual idea.
"Initially, restaurants were only allowed to serve food outside. With the hotel's rooftop unused, except as a private garden for some of the suites, Richard had the idea of opening it to allow them to serve food," says Nicky. "He realised that live music with a warm, laidback vibe would be a way to enhance the dining experience, as well as introducing younger people and new music fans to what the hotel has to offer."
Opening in April this year and continuing until late summer, every three weeks a new chef took over and The Dorchester Rooftop, as it's called, had a different theme with different live music. With superb food, music and unrivalled views over London, four Yamaha DZR10 and two DZR12 powered loudspeakers, plus a pair of DXS15XLF subwoofers easily met the need for high quality, distributed sound, while coping with the challenges of wind and other outdoor factors. Performances were mixed on a TF-RACK rackmount mixer.
"We've worked with Yamaha on various projects, so they were the first people we called. We designed a sound reinforcement system and were more than happy for it to be all Yamaha equipment, because one of the things we really like is its consistency," says Nicky.
"You can make live music as big or as small as you like and Yamaha's consistency and reliability lets us make it as good as it can be. You want the same audio experience, no matter where you are in a venue. With Yamaha we can achieve that and also have remarkable uniformity across multiple venues."
As well as Yamaha mixing and sound reinforcement in all its venues, Molto Music provides Yamaha instruments for the performers. For The Dorchester Rooftop, these comprised a CP88 stage piano, Stage Custom Hip 20 drum kit and TRB-1005J five-string bass guitar.
"The idea is that they only need to bring their Oyster card and perhaps some beer money for after their performance," smiles Nicky. "Everything else is provided."
He continues, "It's been interesting to see how drummers and keyboard players already love Yamaha gear, but guitarists and bass players tend to be surprised when they try a Yamaha guitar. Some have initially insisted on bringing their own instrument, but are now asking us about buying Yamaha guitars and basses because they've played them and liked them. So, we are kind of converting people along the way."
Since the project began, Molto Music has exclusively used Yamaha rigs as it expands its array of 'pop up' live music venues across London.
"The Dorchester trusted us to be as cool and creative as possible and, from there, it has just snowballed," says Nicky. "Richard and the team are extremely happy; we've now got an ongoing contract with the hotel and customers have been very complimentary. There have been reviews specifically about the live music and a lot of social media coverage. It could not have gone any better."
"Molto Music and their world class partners including Yamaha have been exceptional in allowing us to create and deliver a unique experience at The Dorchester Rooftop, especially with such a rapid turnaround," adds Richard. "From the get go, the creativity and support has been phenomenal and it has really opened the doors for new opportunities here at the hotel."
"We have received constant reviews about the atmosphere we developed and have continued to adapt, our social and press coverage has been endless. None of this would have been achieved without the support of Molto Music and its partners."